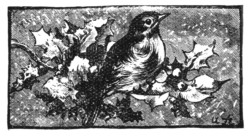 When all the ground with snow is white,
The merry snow-bird comes,
And hops about with great delight
To find the scattered crumbs.
How glad he seems to get to eat
A piece of cake or bread!
He wears no shoes upon his feet,
Nor hat upon his head.
But happiest is he, I know,
Because no cage with bars
Keeps him from walking on the snow
And printing it with stars.

Notes
Written by Frank Dempster Sherman.