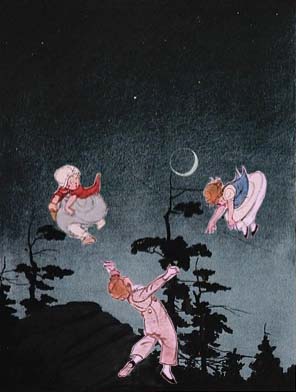 And Dick said, "Look what I have found!"
And when we saw we danced around,
And made our feet just tip the ground.

We skipped our toes and sang, "Oh-lo.
Oh-who, oh-who, oh what do you know!
Oh-who, oh-hi, oh-loo, kee-lo!"

We clapped our hands and sang, "Oh-ee!"
It made us jump and laugh to see
The little new moon above the tree.
Notes
"Crescent Moon" was written by Elizabeth Madox Roberts.

Thanks and Acknowledgements
Image composed by Mama Lisa.