The Korean version of "Frère Jacques"…

You can find the pronunciation in the Notes.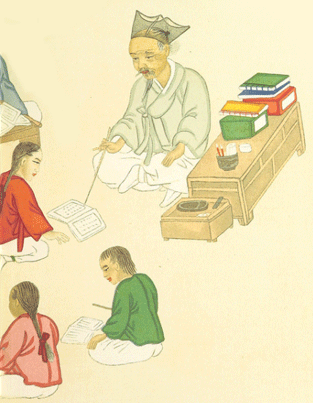 우리 서로 학교 길에
We're on the Way to School
Children's Song
Children's Song
우리 서로 학교 길에
만나면 만나면
웃는 얼굴하고
인사 나눕시다
얘들아 안-녕
We're on the way to school
When we meet, when we meet
Smiling faces greet us,
Let's say hello.
Hey you guys!

Notes
Pronunciation:

Uli selo hagyo giley
Manna-myen manna-myen
Un-neun eol-gul-hago
insa na-nub-sida
yae-deul-a an-ny-ong

Thanks and Acknowledgements
Image: "Korea and the Sacred White Mountain ... with an account of an ascent of the White Mountain" by Captain H. E. Goold-Adam (1894).