Lo cocut es mòrt
The Cuckoo Is Dead
Children's Song
Children's Song
Lo cocut es mòrt,
Es mòrt en Espanha,
Li an tampat lo bèc,
Amb una castaña.

Repic
A up ! as pas entendut
Cantar la cigala?
A up! as pas entendut
Cantar lo cocut?

Lo cocut es mòrt
Es mòrt en Africa
L'an fach enterrar
Amb la musica (Repic)

Lo cocut es mòrt
Mòrt en Anglaterra
Li an tampat lo clòt
Amb un pauc de tèrra. (Repic)
The cuckoo is dead
It died in Spain
They closed this beak
With a sweet chestnut.

Chorus
Ah! Up! Didn't you hear
The cicada sing?
Ah! Up! Didn't you hear
The cuckoo sing?

The cuckoo is dead
It died in Africa
They buried them
With the music band. (Chorus)

The cuckoo is dead
It died in England
They closed its grave
With a little earth. (Chorus)
Comments
Monique Palomares wrote me, "there some versions of verses to this song available, that are not to be published on a children's site!"

Thanks to Monique for singing this for us!
Sheet Music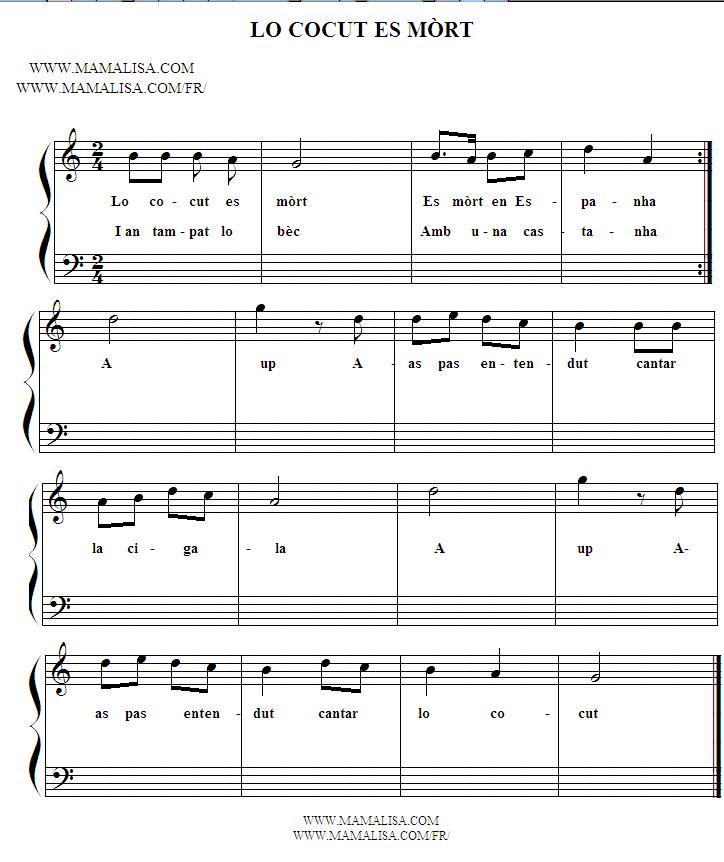 Thanks and Acknowledgements
Many thanks to Monique Palomares for contributing and translating this song, for the score, the midi and the mp3 music.
Mercé plan!