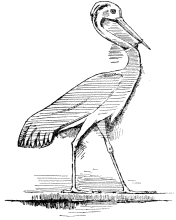 My Dame Has A Lame Tame Crane
1. My dame has a lame tame crane.
2. My dame has a crane that is lame.
3. Oh, please, gentle Jane,
Let my dame's lame tame crane
4. Feed and come home again.

Game Instructions
Every time you sing the following words, perform the accompanying action…

"Dame": Bend your knees and straighten them again with your hands out as if you're curtsying.
"Lame": Lift your right leg, which should be bent at the knee.
"Tame": Put your hands together out in front of you at waist level.
"Crane": Put your right arm up in the air with your fingers together at a horizontal angle to the hand (to mime the beak).
"Feed": This action is after the crane action above so your arm was already in the air – now put it out and forward as if the "beak" is dipping down to feed.
"Please": Put your hands out to your sides like you're imploring someone.
"Jane": Put your hands below your chin with fingertips touching horizontally.


Thanks to Corrina D. for singing this for us!