This song is in Chadian Arabic.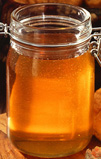 عندي کریو ملیانه عسل
I Have a Little Jar of Honey
Children's Song
Children's Song
عندي کریو ملیانه عسل
طارت من عندي انکسرت
"جرما" ولد خالي "نصار"
ثوري ثوري فحل بقري
طقیته في قرنه
قرنه قام بیدق دم
صار الدم یجری من جام
جربانه حکي جربکی
عیب علیکم، کسر رقبتک، کاک

I have a little jar of honey
It flew out of my hands and broke.
Djarma, my cousin, was the winner.
My bull, my bull, the stud of my cows
I whacked its horn
Its horn pricked up and bled
A trickle of blood flowed here and there
Scabies, pick your scab!
A gruesome shame cracked your neck, crack!

Comments
Please email me if there are any corrections to the Arabic text.
Thanks and Acknowledgements
Many thanks to Fatima Baji for help with the Arabic text!
شكرا
(Shukran!)