"In the hot summer evenings, the children of the Chippewa Algonquins, along the shores of the upper lakes, and in the northern latitudes, frequently assemble before their parents' lodges, and amuse themselves by little chants of various kinds, with shouts and wild dancing. Attracted by such shouts of merriment and gambols, I walked out one evening, to a green lawn skirting the edge of the St. Mary's river, with the fall in full view, to get hold of the meaning of some of these chants. The air and the plain were literally sparkling with the phosphorescent light of the fire-fly. By dint of attention, repeated on one or two occasions, the following succession of words was caught. They were addressed to this insect ..." -Henry Rowe Schoolcraft (circa 1845)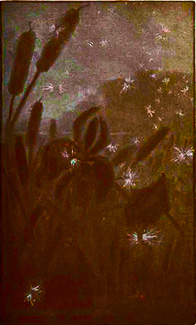 Wau Wau Tay See!
Chant to the Firefly
Wau wau tay see!
Wau wau tay see!
E mow e shin
Tshe bwau ne baun-e-wee!
Be eghaun - be eghaun - ewee!
Wau wau tay see!
Wau wau tay see!
Was sa koon ain je gun.
Was sa koon ain je gun.
Flying-white-fire-insect!
Waving-white-fire-bug!
Give me light before I go to bed!
Give me light before I go to sleep!
Come, little dancing* white-fire-bug!
Come little flitting-white-fire-beast!
Light me with your bright white-flame-instrument
Your little candle.
Notes
*"In giving the particle 'wa' ['wau' in the lyrics above], the various meanings of 'flitting', 'waving', and 'dancing', the Indian idiom is fully preserved. The final particle 'see', in the term 'wa wa tai see' ['wau wau tay' see above], is from the generic root 'asee', meaning a living creature, or created form, not man. By prefixing 'Ahw' to the root, we have the whole class of quadrupeds, and by pen, the whole class of birds, &c. The Odjibwa Algonquin term for a candle, was 'sa koon ain je gun', is literally rendered from its elements - 'bright-white-flamed-instrument'. It is by the very concrete character of these compounds that so much meaning results from a few words, and so considerable a latitude in translation is given to Indian words generally." -Henry Rowe Schoolcraft

Literary Translation by Henry Rowe Schoolcraft:

Fire-fly, fire-fly, bright little thing,
Light me to bed and my song I will sing;
Give me your light, as you fly o'er my head,
That I may merrily go to my bed.

Give me your light o'er the grass as you creep,
That I may joyfully go to my sleep;
Come, little fire-fly, come little beast,
Come! and I'll make you to-morrow a feast.

Come, little candle, that flies as I sing,
Bright little fairy-bug, night's little king;
Come and I'll dance, as you guide me along;
Come and I'll pay you, my bug, with a song.

A version of this chant can be found as an excerpt in Longfellow's epic poem, "The Song of Hiawatha" as follows:

Saw the fire-fly, Wah-wah-taysee,
Flitting through the dusk of evening,
With the twinkle of its candle
Lighting up the brakes and bushes,
And he sang the song of children,
Sang the song Nokomis taught him:
"Wah-wah-taysee, little fire-fly,
Little, flitting, white-fire insect,
Little, dancing, white-fire creature,
Light me with your little candle,
Ere upon my bed I lay me,
Ere in sleep I close my eyelids!"
Comments
"Metre there was none, at least, of a regular character: they were the wild improvisations of children in a merry mood." -Henry Rowe Schoolcraft
Thanks and Acknowledgements
This song can be found in the book "The Indian in His Wigwam" (1848) by Henry Rowe Schoolcraft.

"Henry Rowe Schoolcraft was an American geographer, geologist, and ethnologist, noted for his early studies of Native American cultures, as well as for his 1832 expedition to the source of the Mississippi River... He served as a United States Indian agent for a period beginning in 1822 in Michigan, where he married Jane Johnston, mixed-race daughter of a prominent Scotch-Irish fur trader and Ojibwa mother, who was daughter of a war chief. She taught him the Ojibwe language and much about her maternal culture. They had several children, two of whom survived past childhood. She is now recognized as the first Native American literary writer in the United States." -Wikipedia

Miigwech!