Ilaot is a drink of coconut syrup made by boiling coconut sap and water. It was valued for its medicinal benefits and religious significance.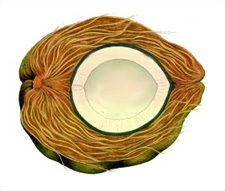 Kesekesengel ilaot ra Beliliou
Lullaby about a Drink made of Coconut Sap on Peleliu Island
Komdi lilangel elmuus er ngak
Chomelbil ailama almotbira
Llama akmo muchi choeaoi mo tereki
Era Tab Rengeriki e mabkul a Chiai ma
Kumiich akumodes ang biich a chemedechir aremelenges
El bikei Ngerchoi el kaiderurt er chertiu llaoi
Elikora ilotiu a Rachemerei
Meng dllotiu achule etir choba
Ngerei ei

You cry a lot asking me
To make the coconut sap drink, I'm trying
To break up the leaves with a pestle
To boil, filter and sieve the coconut sap
Like the fishing pole in the hamlet on Peleliu Island, fishing on the boat and getting baked,
The coconut syrup is in a pot lined with leaves, pry it open,
Put your mouth on the opening of the bottle, baby drink,
That's your answer dear.