A Navy Song

This song can be heard in old movies and at official events.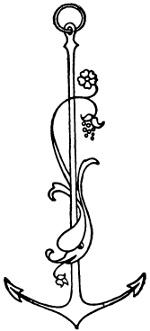 Anchors aweigh, my boys,
Anchors aweigh
Farewell to foreign shores,
We sail at break of day,
Through our last night on shore
Drink to the foam,
Until we meet again
Here's wishing you a
Happy voyage
Home.

You can hear the tune to this song in the mp3 below.
MP3 Recording: "Anchors Aweigh", as performed by the United States Navy Band.

Thanks and Acknowledgements
This song was composed in 1906 by Charles A. Zimmermann with lyrics by Alfred Hart Miles.
Thank you!