"I learned this Halloween song when I was in kindergarten in 1955 in Northern New Jersey.

I was an invited speaker at a poetry festival that coincided with Halloween a couple of years ago and I sang this for the crowd of children and adults as part of my remarks. They loved it! And they had never heard it before here in Texas." - Nancy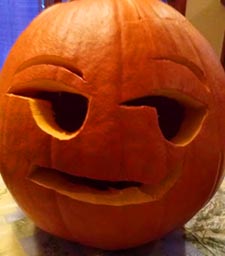 Punky Pumpkin's a happy pumpkin.
He's as happy as can be,
Because he's a jack-o'-lantern
Instead of being a pumpkin pie.
Notes
This is a small part of the song "Punky Pumpkin" by Cy Coben. The lyrics above have been altered from the original too.
Comments
Bill Bauer wrote to us: "This song came to mind this morning as it had several times over the years so I decided to get on my computer and do some research to see if I couldn't find it.

When reviewing the returns from a Google search I found your web site and upon further searches I not only found out the writer of the song, but the original artists that recorded the song. See quote below from an article I found in my search..."

Quote from Carolina History Project:

"'Punky Punkin' as sung by Rosemary Clooney (Geoge Clooney's aunt) on a child's Columbia record 78rpm disc from around 1952.. was written by versatile songwriter, Cy Coben, who just passed away recently. He was a Jewish songwriter who made his home in Nashville... It's a great post-World War II Halloween song written for children, back when the babyboom generation was taking off and Halloween was becoming very child-friendly, ala door-to-door trick-or-treating... I fondly remember it being performed on the Captain Kangaroo weekday kids' television show when this time of year came around."

Bill wrote, "Roy Rogers also released his version of the song. This is the version I grew up with. I remember hearing Teresa Brewer's Jazzy version as well.

Y'all Have A Bright Orange Day Noe, Ya Hear!" -Bill Bauer

Many thanks to Nancy Membrez for sharing this song with us and for singing it!
Thanks and Acknowledgements
Photo: Mama Lisa

Thanks to Bill Bauer for sending info about this song!
Thank you!