Юр'я (Yuri, Jari or Yarily) was a pagan god of spring, crops, fertility and virility. There used to be a spring holiday associated with Jari. This holiday eventually merged into St George's Day.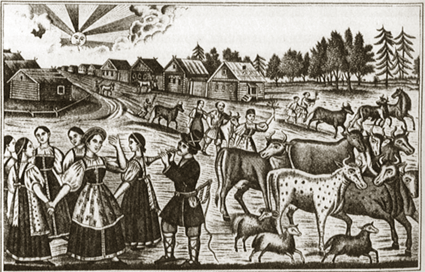 Юр'я! Ўставай рана
Yuri! Get Up Early
Юр'я! Ўставай рана.
Юр'я! Ўмыйся бела.
Юр'я! Вазьмі ключы.
Юр'я! Выйдзі ў поле.
Юр'я! Адамкні зямлю.
Юр'я! Пусьці расу,
Юр'я! Мядовую.
Юр'я! Пусьці траву,
Юр'я! Шаўковую.
Yuri! Get up early,
Yuri! Wash up.
Yuri! Take the keys,
Yuri! Go out into the field,
Yuri! Open up the land.
Yuri! Bring forth the dew,
Yuri! Honeyed.
Yuri! Bring forth the grass,
Yuri! Silkened.

Notes
Transliteration:

Jurja! Ŭstavaj rana.
Jurja! Ŭmyjsia biela.
Jurja! Vaźmi kliučy.
Jurja! Vyjdzi ŭ polie.
Jurja! Adamkni ziamliu.
Jurja! Puści rasu,
Jurja! Miadovuju.
Jurja! Puści travu,
Jurja! Šaŭkovuju

Thanks and Acknowledgements
Translation: Mama Lisa

Image: Wikipedia - 19th-Century Illustration of the Spring Day Yuriev in Russia.