This song is from the point of view of a female slave during the Ottoman Empire.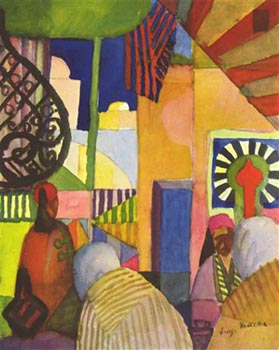 Moj dilbere, kud se šećeš?
Aj, što i mene ne povedeš?
Povedi me u čaršiju,
Aj, pa me prodaj bazardžiji.
Uzmi za me oku zlata
Aj, pa pozlati dvoru vrata.

My darling, where are you going?
Oh, why don't you take me there too?
Take me to the bazaar
And then sell me to the bazaar merchant,
Take for me a piece* of gold
And gild your palace gates with it!

Notes
*Literally an "oka", which is a unit of weight in the Ottoman Empire that was approximately equal to 1.25 kilograms (2.75 pounds).

According to Wikipedia, "The song has been in Bosnia since Ottoman times. "

Thanks and Acknowledgements
Translated by Mama Lisa. Thanks to Aleksandra Grbic for her correction.

Image: In the Bazaar (1914), August Macke
Hvala!