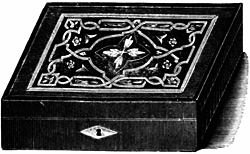 قوطی قوطی گک ما
Box, My Little Box
Counting-out Rhyme
Counting-out Rhyme
قوطی قوطی گک ما
خواهر رضا گک ما
بیا دکان داری کنیم
شلواری پوشی کنیم
تق توق بینی پورو چوق

Box, my little box,
My tiny sister,
Come and play store!
Let's put our trousers on.
Knock, knock, twisted nose.
Notes
Pronunciation:

qoti qoti gak e ma
khwar é réza gak é ma
byâ dokân dâri koném
sholwâri poshi koném
taq toq bini poro choq.

q: "k" sound pronounced from the back of the throat.
kh: like "ch" in "loch" or the German "ch" in Bach
â = long "ah" sound
Thanks and Acknowledgements
Many thanks to Hélène Rice for contributing this song, to Massoud Raonaq for contributing the transliteration and a French translation and to Fatima Baji for typing the lyrics in the original text.
تشكر