A Traditional Huayno Song

"'Valicha' is a very popular 'huayno' song from the town of Cusco in Peru. The huayno is a popular song and dance of this region of Peru. The lyrics tell about a pretty girl named Valicha who is stealing the hearts of young men." -Daria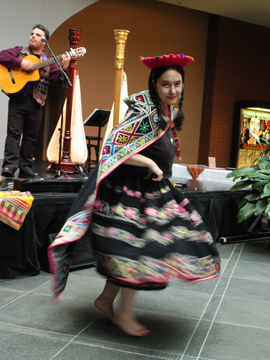 Traditional Song
Traditional Song
Valicha, lisa pasñaqa
Niñaschay deveras
Maypiraq kasanki

Qosqo urapi ñachu
Niñaschay deveras
Imatan ruwasian

Qosqoman chayaruspari
Niñaschay deveras
Imata ruwanka

Sapanka achawasipis
Niñaschay deveras
Sarata kutasian

Cuartelpunku cuñapin
Niñaschay deveras
Maq'tata suwasian
The lovely girl, Valicha
Really, girl
Where are you?

Now, In the lower barrio of Cusco
Really, girl
What are you doing?

In (the city of) Cusco, right over there
Really, girl
What would you do?

In every achawasi*
Really, girl
You are grinding corn.

From the door of your room
Really, girl
You are stealing (the hearts of) young men.
Notes
*Place where you can drink chicha beer.

Daria sent us this song with the following note:

"The language of this song is Quechua, the main language of the Incan empire, dialects of which are still spoken in much of rural Peru, Bolivia and Ecuador today."

You can hear Daria's world music for children on her website or her SONQO website.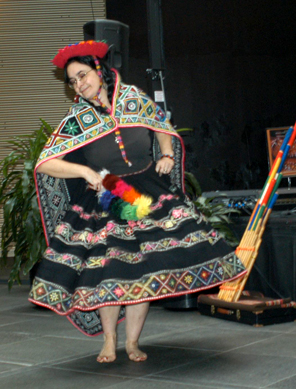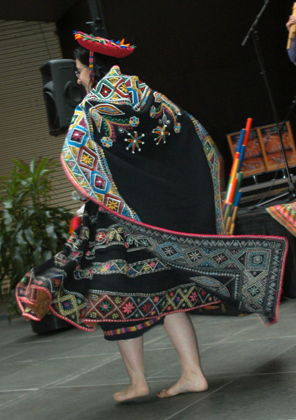 Comments
Here's what Daria wrote about the photos:

"I thought you might like to see traditional clothing for Cusco. Here I am dancing to Valicha at the Kimmel Center for the Performing Arts in Philadelphia. It is so beautiful. Wearing it and dancing is like stepping into the clothes of our ancestors - a powerful experience!"

That sounds great Daria... thanks for sharing your photos!

Mp3 of Surphy, performance by SONQO
Vocals by Daria Marmaluk-Hajioannou

In the video below you can see the Peruvian Huayno Dance…
Thanks and Acknowledgements
Contributed and translated by Daria Marmaluk-Hajioannou.