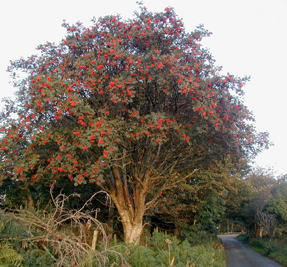 Manx Lullaby (Arrane Ny Clean)
Oh hush thee my dove, oh hush thee my rowan,
Oh hush thee my lapwing, my little brown bird.

Oh fold thy wings and seek thy nest now,
Oh shine the berry on the bright tree,
The bird is home from the mountain and valley.
Oh horo hi ri ri. Cadul gu lo.*
Notes
* "Oh horo hi ri ri" are sounds used to soothe the baby. "Cadul gu lo" is pronounced "Cajool goo low" and it means, "keep sleeping" or "sleep on" according to the score here.


Thanks and Acknowledgements
Many thanks to Lila for contributing this song.

Image: "Rowan Tree" by Eeno11 - Own work. Licensed under CC BY-SA 3.0 via Wikimedia Commons.
Thanks so much!