This traditional Uele River men's rowing song is also sung as a lullaby. People row to the rhythm of the song.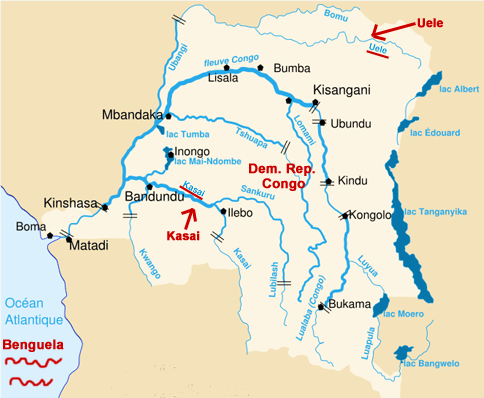 Uélé moliba makasi
Uele! The Current is Very Strong!
Olélé olélé moliba makasi (bis)
Luka luka
mboka na yé (bis)
Mboka mboka Kasai.

Eeo ee eeo Benguela aya (bis)
Oya oya
Yakara a
Oya oya
Konguidja a
Oya oya.
Olele ! olele ! The current is very strong
Row! Row!
His country,
His country is the Kasai*.

Eh eho, eh eh eheho, let Benguela** come!
Come! Come!
The courageous one.
Come! Come!
The generous one.
Come! Come!
Notes
*Uele and Kasai are rivers in Congo.
**Benguala is a cold current in the waters off the south west coast of Africa that brings winds with it.

Pronunciation of the vowels
a = ah
e = eh
i = ee
o = oh
u = oo

Thanks and Acknowledgements
Many thanks to Fabienne Kassogué for contributing this song.

Photo: Original image from Wikipedia - edited by Mama Lisa
Merci beaucoup!