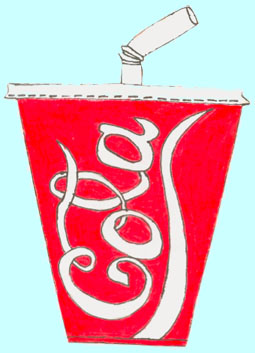 Coca-Cola went to town
Pepsi-Cola knocked him down
Seven-Up picked him up
And carried him to Dr. Pepper.
Notes
Here's a longer version:

Coca Cola went to town
Diet Pepsi shot him down
Dr. Pepper picked him up
Now we're drinking 7-Up
7-Up got the flu
Now we're drinking Mountain Dew
Mountain Dew fell off a mountain
Now we're drinking from a fountain
Fountain broke, people choke,
Now we're back to drinking coke.

Corrina recites the longer version that's in the Song Notes in the mp3...
Thanks to Corrina D. for reciting this for us!

You can see below many versions of this song exist. Feel free to send us yours! -Mama Lisa
Thanks and Acknowledgements
Many thanks to Sandi McBride for contributing this rhyme and to Gracie for the great illustration!
Thanks so much!