"On Top of Old Smokey" is from the 1840's in the Southern Appalachian Mountains. The Smokey Mountains, or Smokies, are a mountain range that runs along the border of Tennessee and North Carolina. They're a part of the Appalachian Mountains. Old Smokey is one of the peaks a few miles from Asheville, North Carolina*.

The English, Irish and Scottish people who had immigrated to the Appalachians created this song. The song has similarities to the old New England song "The Wagoner's Lad".

"On Top of Old Smokey" can also be spelled "On Top of Old Smoky".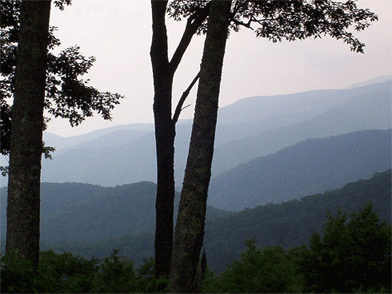 On top of Old Smokey
All covered with snow,
I lost my true lover
By courting too slow.

A-courtin's a pleasure,
A-partin' is grief,
And a false-hearted lover
Is worse than a thief.

A thief he will rob you
And take what you have,
But a false-hearted lover
Sends you to your grave.

They'll hug you and kiss you
And tell you more lies
Than the crossties on the railroad
Or the stars in the sky.

My sad heart is aching
I'm weary today,
My lover has left me
I'm a-feelin' this way.

It's rainin', it's pourin'
The moon gives no light,
My horse he won't travel
This dark lonesome night.

I'm goin' away, dear,
I'll write you my mind.
My mind is to marry
And to leave you behind.

Come all you young people
And listen to me,
Don't place your affection
On a green willow tree.

The leaves they will wither
The roots they will die,
You will be forsaken
And never know why.

On Top of Old Smoky
All covered with snow,
I lost my true lover
A-courtin' too slow.
Notes
*According to "The Songs We Sang" by Theodore Raph (1964).

*****

A famous parody of "On Top of Old Smokey" is "On Top of Spaghetti" (copyright 1961) by Tom Glazer (1914 - 2003).

Here's the first verse of "On Top of Spaghetti":

On top of spaghetti,
All covered with cheese,
I lost my poor meatball,
When somebody sneezed…

*****

Many thanks to Corrina D. for singing this for us!

Sheet Music