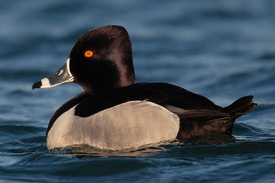 Kwek, kwek patu
Quack, Quack, Duck
Children's Song
Children's Song
Kwek, kwek patu
Den laman.
Bin un ratu, mi tin pan, pan, pan.
Quack, quack, duck
In the sea.
Come a moment, I have bread, bread, bread.
Thanks and Acknowledgements
Many thanks to Maharaya De Wind for contributing this song and to Monique Palomares for translating it.

Photo: "Aythya-collaris-001". Licensed under CC BY-SA 3.0 via Wikimedia Commons.
Danki!