Here's a clapping song for kids around 5 to 10...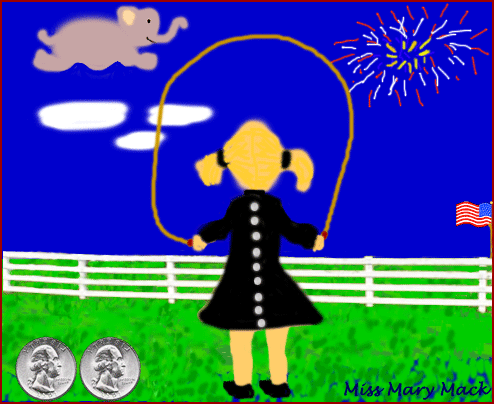 Miss Mary Mack! Mack! Mack!
All dressed in black! Black! Black!
With silver buttons! Buttons! Buttons!
All down her back! Back! Back!
She asked her mother! Mother! Mother!
For fifteen cents! Cents! Cents!
To see the elephants! Elephants! Elephants!
Jump over the fence! Fence! Fence!
They jumped so high! High! High!
They reached the sky! Sky! Sky!
And they never came back! Back! Back!
'Til the fourth of July! -ly! -ly!
Comments
I also sang this song while growing up in the 70's on Long Island, N.Y. - Mama Lisa

Linda T. wrote:

My mother gave me 50 cents to watch the elephant jump the fence
he jumped so high he reached the sky, and he didn't come back
till the forth of july.

Lisa, I do not know the origin of this rhyme, but my Grandmother use to sing this to me when I was a little girl in Brooklyn N.Y."
(I believe that would have been the '50's.)

Thanks to Sarina and Lila for singing Miss Mary Mack for us!

Thanks and Acknowledgements
Many thanks to Diana Joy Leonard for contributing this song!
Thank you very much!