April 15th, 2006
A Bunny is a fingerplay you can do at Easter time or throughout the year. Here are the words…
A Bunny
Once there was a bunny.
(Make a fist with your left hand and extend two fingers for ears)
And a green, green cabbage head…
(Make a fist with your right hand)
"I think I'll have some breakfast," the little bunny said.
(Move bunny toward cabbage head)
So he nibbled and he nibbled.
(Wiggle fingers on left hand)
Then he turned around to say,
"I think this is the time I should be hopping on my way!"
(Make hopping movements with left hand)
Enjoy saying this rhyme to your little bunnies!
Lisa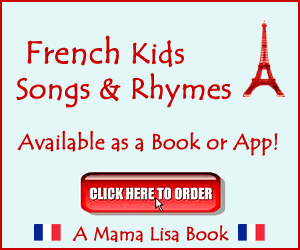 This artilce was posted on Saturday, April 15th, 2006 at 1:48 pm and is filed under Easter, English, Great Britain, Holidays Around the World, Languages, Nursery Rhymes About Animals, Nursery Rhymes about Rabbits, Rhymes by Theme, USA. You can follow any responses to this entry through the RSS 2.0 feed. You can leave a response, or trackback from your own site.
2 Responses to ""A Bunny", a Fingerplay Rhyme"
Troy Says:
April 19th, 2006 at 7:53 am

Cute! Mind if I link to this from my site?

Lisa Says:
April 20th, 2006 at 9:44 am

Of course you can!

Troy's site is about early childhood education and children's music. To visit his site, click on his name above!
Leave a Reply