Papeta Calhau
Grandpa Stone
Children's Song
Children's Song
I aviá un cat e un chin (x2)
Que fasián la terralha
Traulala, Papeta Calhau
I aviá un cat e un chin
Que fasián la terralha

I aviá una mosca al plafond (x2)
Que s'espetava de rire
Traulala, Papeta Calhau…

Tomba de la muralha
Se còpa las doas cuèissas…

Lo lendeman matin
La menèrem a l'ospici…

Lo suslendeman matin
La retrobèrem mòrta…

Lo jorn de l'enterrament
Faguèrem una panta de rire…

I aviá per capelan
Un chin vestit de negre…

I aviá per enfants de còr
Dos cats vestits de roge…

I aviá per corbilhard
La carreta de Lazari…

I aviá per carretièr
Denis vestit en mosca

Sortiguent del cementèri
Rescontrèrem una nòça

Aquí lo dòl passat
De la paura mosqueta…

Nos metèrem a dançar
Al mitan de la carrièra…
There was a cat and a dog (x2)
Who were washing the dishes
Trawlala, Grandpa Stone
There was a cat and a dog
Who were washing the dishes.

There was a fly on the ceiling (x2)
Who was laughing his head off
Trawlala, Grandpa Stone…

It fell down from the wall
He broke his two thighs…

The next morning
We brought him to the hospital…

The morning after
We found it dead…

On the day of the burial
We had a lot of fun…

There was, as a priest
A dog dressed in black…

There were, as altar boys
Two cats dressed in red…

There was, as a hearse
Lazarus' cart…

There was as a driver
Dennis dressed up as a fly.

When going out from the churchyard
We came across a wedding.

When the poor fly's mourning
Was over...

We started to dance
In the middle of the street…

Thanks to Monique for singing this song for us!
Sheet Music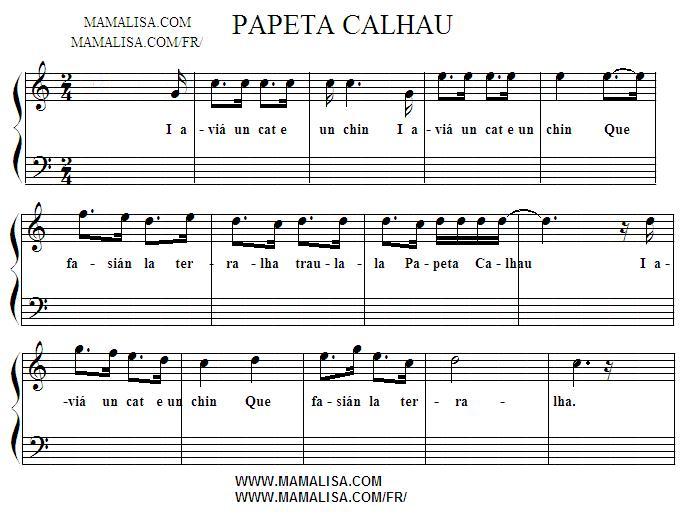 Thanks and Acknowledgements
Many thanks to Monique Palomares for contributing and translating this song, for the score, the midi and the mp3 music.
Mercé plan!
Let us know what you think!
If you feel any comment below is inappropriate, please email us. Thanks!