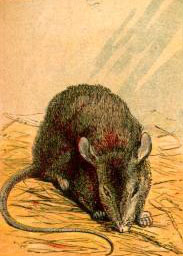 Ratu si ka fila ku si kunpeñeru
The Rat That Doesn't Get Along With its Friends
(Bissau-Guinean Creole)
(English)
Ratu si ka fila ku si kunpeñeru,
i ka ta cama gatu pa raparti elis.
The rat that doesn't get along with its friends
Doesn't call the cat to intermediate.
Comments
You can find more Bissau-Guinean proverbs here (with Portuguese translations).
Let us know what you think!
If you feel any comment below is inappropriate, please email us. Thanks!