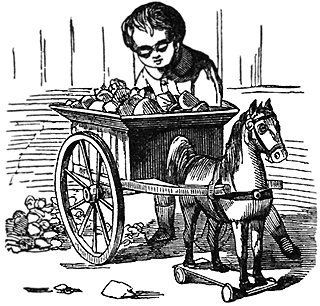 A Horse and Cart Had Billy Smart
A horse and cart
Had Billy Smart,
To play with when it pleased him;
The cart he'd load
By the side of the road,
And be happy if no one teased him.
Thanks and Acknowledgements
The illustration and the rhyme come from The crooked man and other rhymes, from Aunt Mary's Little Series (published in New York between 1851 and 1870 by McLoughlin Bros.).
Let us know what you think!
If you feel any comment below is inappropriate, please email us. Thanks!