The following poem was written by Alexander L. Posey. He was a poet, journalist and politician in the Creek Nation. He founded the 'Eufaula Indian Journal' in 1901, the first Native American daily newspaper.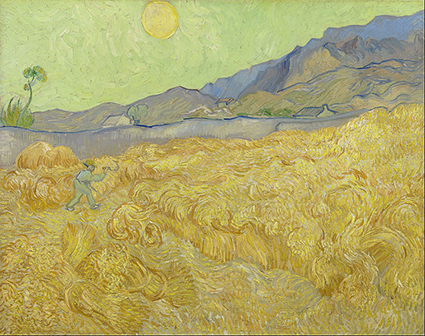 The air without has taken fever;
Fast I feel the beating of its pulse.
The leaves are twisted on the maple,
In the corn the autumn's premature;
The weary butterfly hangs waiting
For a breath to waft him thither at
The touch, but falls, like truth unheeded,
Into dust-blown grass and hollyhocks.

The air without is blinding dusty;
Cool I feel the breezes blow; I see
The sunlight, crowded on the porch, grow
Smaller till absorbed in shadow; and
The far blue hills are changed to gray, and
Twilight lingers in the woods between;
And now I hear the shower dancing
In the cornfield and the thirsty grass.
Notes
Written by Alexander L. Posey.


Thanks and Acknowledgements
Image: Wheatfield with a Reaper by Vincent Van Gogh.