"Ukuti wa nazi: Tanzanian's most popular nursery rhythm and dance. This is the normal version! People do edit and fit other words to suit the occasion for kids." -Dr. Ng'umbi Nickson Hassanally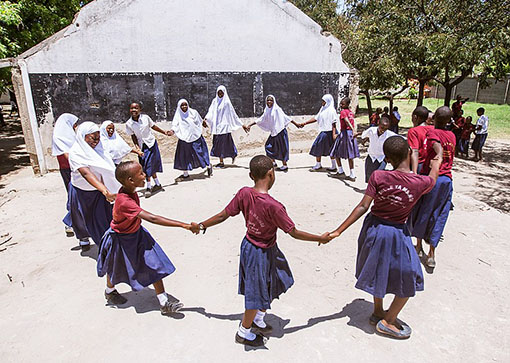 Ukuti ukuti
Wanini Wanini
Wa nazi wa nazi
Mwenzetu mwenzetu
Kagongwa kagongwa
Na nini Na nini
Na Gari Na Gari
Tumpeleke hospitali asije kusema
Kwa mama yake
Yeeesa yeeesa yeesaa
Yeah
The leaf, the leaf
Of what, of what
Of a coconut tree, of a coconut tree
Our fellow, our fellow
Is hit, is hit
By what, by what
By a car, by a car
Let us send her/him to the hospital
Before s/he reports us to her/his father
Yeesa yeesa yeesaa
Yeah!

Notes
Another Version:

Ukuti, ukuti
Wa nazi, wa nazi
Mwenzetu, mwenzetu
Kagongwa, kagongwa
Na nini, na nini?
Na gari, na gari
Usije kusema kwa baba yake
Yes, yes, yes, yeah!
Bado kidogo

Loose English Translation:

The leaf, the leaf
Of a coconut tree, a coconut tree
Our friend, our friend
Was hit by, was hit by
What? What?
A car, a car
Before s/he reports it to her/his father
Yeah, yeah, yeah, yeah!
Wait a minute.

Game Instructions
This song is sung in a ring. The children hold hands and skip around. They then increase their steps as if running around. Then they fall down when it comes to the last line.
Comments
This game is also played in Kenya.


Thanks and Acknowledgements
Thanks to Dr-Ng'umbi Nickson Hassanally for helping with the words to this song and the translation. We also have his YouTube of Ukuti posted here. Check out his YouTube Channel for more Songs from Tanzania.

Photo: Ukuti Game by Calvink255, cc.4.0.

Asante Sana!