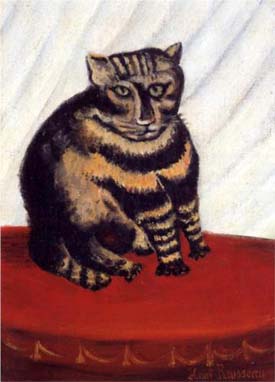 Chanson de la minette
Pussycat's song
(Reunion Creole)
(English)
Dodo la minette,
l'enfant de Jeannette
Si la minette, y dodo pas
Chat' marron va souke à elle.
Sleep, pussycat
Jeannette's child
If pussycat doesn't sleep
A big brown cat will eat her.
Notes
Glossary

Dodo : Go to sleep
La minette : Baby (a boy or a girl)
Chat' : Cat (male or female)
Y souke : Will eat (or crunch) him/her
Comments
Claude wrote to us: "'Marron' (brown) can be translated as 'wild'. This word comes from 'maroons' (runaway slaves). In Creole, 'souké' means 'to catch', so the last line is, 'A big wild cat will catch her'."

Many thanks to Claudie Caderbi for contributing and singing this song!

Thanks and Acknowledgements
Thanks to Monique Palomares for translating this song. Many thanks to Claude for the comments.

Image: Henri Rousseau
Mersi!