"…To understand the meaning of this lullaby, you must know that the funeral rites and ceremony in the Arabic Djiboutian community are a women's business first... When someone passes away among the Djibouti Arabs, the mortuary washing is done by a 'wash-man' or a 'wash-woman', according to gender. The body is then dressed in a white, cotton shroud, by a 'cover-man' or a 'cover-woman'. Women are the ones who organize and overview the different steps of the mortuary ceremony... These women's efforts will vary depending on the ties that link them to the deceased. Thus, very often women don't make the same effort when it's for their mother versus their mother-in-law. They'll be more careless if the deceased is their mother-in-law, at least it's what this lullaby suggests." –extract from Souad Kassim Mohamed's commentary (translated from the French by Monique)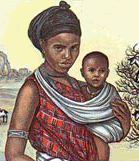 ٲشى عشر بنات بل قليلاتي
I'd Like to Have at Least Ten Daughters
وا رب وا ربّاتى و اللى في خيرك وافى


كترلى بالبناتى عشرة بالقليلاتى


تنتين عند رجولى و تنتنين عند راسى


تنتين عند المُغسّلة يقولوا غسّلى امٌنا صافى


تنتين عند المكفّنة يقولوا مانقصو وماوفى


تنتين فوق الفراش يبكوا يقولوا وامّى و امّ خواتى


تنتين بالمطبخ يسكّبوا القهواتى لمرايحى و امواتى


تنتين عند باب المردم صابره لبعلها يعازلاتى


تقول له لا أشاك و لا أنت منّى


أشاك تحلق جعدتك و تولّى على امّى


قال لى اتحشمى و وليده الرجال يبكوشى


لمّك ماتن خدى بدالها امّى


قاللوه كدبت يابن الرجال إن أمّك بديلة لامّى


امّى جنه خضره كل ما اقبلن ضللنّى


امّى كوزه بارد كل ما اقبلن عمنّى


اما امّك كلبه ضاغر لوجزعت هرنّى


امّك سحابة سوده لو اقبلن غمنّى


وا رب وا ربّاتى و اللى بلا بناتى تموت من الحسراتى


بيتها مفكوكو لم ريح وام سوافى


جحلتها مكشوفه عليها حنش لاوى


فراشها ممدودو و لا عليه باكى


تبكيها مرت ابنها بكاها فيها ونّه


ساعة تقول وامّا ساعة وعما


ساعة تقول ورب دعيتك شاليت منى الغمّه
1. O, God! O, my God! You whose blessings are many.
2. Give me several daughters, ten at least.
3. When I die, two will be next to my feet and two next to my head.
4. Two will be next to the wash-woman*, they'll tell her: "Wash our mother with great care."
5. Two will be next to the cover-woman**, they'll ask her, 'What is missing? What is enough?"
6. Two will weep over me on the mattress, saying "Oh mother! Oh mother of my sisters!"
7. Two will be in the kitchen, they'll serve coffee to those who come and go offering condolences.
8. Two, on the doorstep, will await their husbands to order them to weep for my death.
9. One of them will tell her husband, "I don't want you any more and I'm not yours any more
10. Unless you shave your head and mourn my mother."
11. And when he answers her, "Be ashamed! Oh, woman! Men don't cry.
12. If your mother is dead, replace her with my own."
13. She'll answer him bluntly then, "You're mistaken, son of men, if you think your mother can replace mine.
14. My mother, like a green paradise, cheers me up whenever she comes near me.
15. My mother, like a jar of fresh water, quenches my thirst whenever she appears.
16. While your mother, like a nasty b*tch, barks at me whenever I pass by.
17. Your mother, like a malevolent cloud, smothers me whenever she shows herself to me!"
18. O, God! O, my God! She who has no daughter dies in distress.
19. Her house is open to the wind and sand.
20. Her jar is uncovered and a coiled snake lies in it.
21. Her mattress is hung out and nobody weeps for her.
22. Except for her daughter-in-law whose tears are fake.
23. One moment she says, "Oh, mother!" Another, "Oh, darkness!"
24. Then "O, God! I have prayed to you so much so that you would free me from the one who smothers me."
Notes
*"Ghasila" is the Arabic term for the female corpse-washer. It comes from the term for the woman who washes clothes for a profession, "ghassal". (Source: "The Mysterious Plus" by William Tarvin.)
**The woman who puts the shroud on the corpse.

Comments
Pronunciation of the song name:

aʃa ʕaʃara banāti bi-l qulejlāti
Thanks and Acknowledgements
Many thanks to Souad Kassim Mohamed from the University of Djibouti to allow us to use this lullaby and her French translation of it from her blog.

English translation by Monique Palomares and Lisa Yannucci.