The song is about the difficulties crossing a mountain pass called "Arirang".

There are many versions of Arirang. The first verse (given below) is most often sung.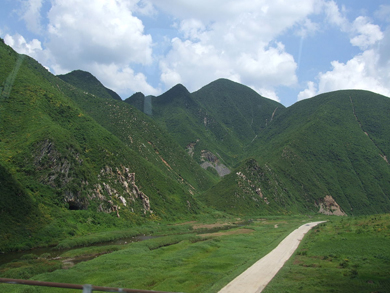 아리랑, 아리랑, 아라리요...
아리랑 고개로 넘어간다.
나를 버리고 가시는 님은
십리도 못가서 발병난다.
Arirang, Arirang, Arariyo (1)
Crossing over Arirang Pass.
Dear who abandoned me [here]
Shall not walk even ten li (2) before his/her feet hurt.

Notes
(1) Arariyo has no meaning. It's in the song for the sound and to help it flow.
(2) Ten li is approximately 4 kilometers or 2 1/2 miles.

*****

Pronunciation:

Arirang, Arirang, Arariyo...
Arirang gogaero neom-eoganda.
Nareul beorigo gasineun nim-eun
Simnido motgaseo balbyeongnanda.

Comments
This song is on the Intangible Cultural Heritage List by Unesco.

Thanks and Acknowledgements
Translation from Wikipedia.

Photo: Wikimedia