Ahmed wrote, "This is a traditional Bahrainian song. In the song, they are talking to 'a dove' and saying..."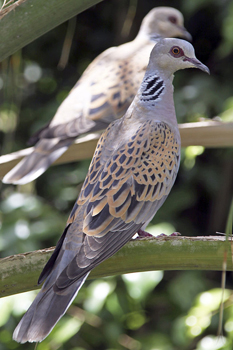 حمامه نودي نودي (Hamama Nodi Nodi)

Dove Fly, Fly
Children's Song
Children's Song
حمامه نودي نودي سلمي على زيودي
زيودي راح المكه
اييب ثوب العكه
ويحطه في صندوكي
صندوكي ماله مفتاح
والمفتاح عند الحداد
والحداد يبغ يالفلوس
والفلوس عند العروس
والعروس تبغي ريال
والريال يبغي عيال
والعيال يبغو حليب
والحليب عن البكر
والبكر يبغو الحشيش
والحشيش فوك الجبل
والجبل يبغي مطر
والمطر من عند الله
لا الله الا الله
محمد رسول الله
لا الله الا الله
محمد رسول الله

Dove fly, fly and give regards to Zaioni*
Zaioni went to Mecca
To bring a cloth to Akka* and put it in my box.
My box has no key and the key is at the blacksmith
The blacksmith wants money
And the money is with the bride
And the bride wishes for a man
And the man wants children
The children want milk
And the milk is with the cow
And the cow needs grass
And the grass is over the mountain
And the mountain needs rain
And the rain is from God
No God other than God
Mohammed is the prophet of God,
No God other than God
Mohammed is the prophet of God.
Notes
*A person

*****

Transliteration:
(From this tool)

Hamama nodi nodi slmy 'la zywdy
zywdy rah almkh
ayyb thwb al'kh
wyhth fy sndwky
sndwky malh mftah
walmftah 'nd alhdad
walhdad ybgh yalflws
walflws 'nd al'rws
wal'rws tbghy ryal
walryal ybghy 'yal
wal'yal ybghw hlyb
walhlyb 'n albkr
walbkr ybghw alhshysh
walhshysh fwk aljbl
waljbl ybghy mtr
walmtr mn 'nd allh
la allh ala allh
mhmd rswl allh
la allh ala allh
mhmd rswl allh
Comments
This song is sung in Iraq too.

This song is the first one that's sung in the video below...
Please
let us know
if you think this video has been taken down by YouTube.
Thanks!
Thanks and Acknowledgements
Many thanks to Ahmed Albabili for sharing this song with us and for the English translation. Ahmed has a Facebook Group called Learning English "Ask and We Shall Answer".

Photo: "European Turtle Dove (Streptopelia turtur)" by Yuvalr - Own work. Licensed under CC BY-SA 3.0 via Wikimedia Commons.