Nauru has a population of about 9,500 people. It's the world's smallest independent republic. No one knows where the Nauruans originally come from since their language is unlike all of the other languages in the Pacific region.

Below you can listen to a beautiful Nauruan song...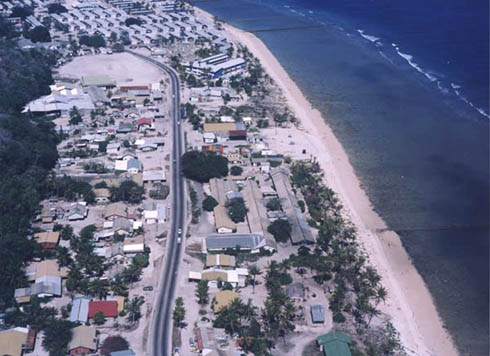 Oh Bwio Eben Bwio
Oh Bwio Eben Bwio
Traditional Song
Traditional Song
Tsin ia anim omaranuw ubwio
Nan garureduw ame renimeo
Bwin eko ion tekeiyuw ubwbio auwew okor
Ma keiyestin tuk eduw yu aiworin

(Chorus)
O bwio eben bwio ekegen am kamarar
Ngag a maten touda maro bwe dogum (Bwe Dogum)
Wo eo duoku ame wo nim gapapar ame
Bwin a ekewen naga o a ekewen

Bwio yobum tsin ie tsioda maraman
Yongin oleanda ino ngengeon
A megedan riangei iriangin ibogi
Bwe eko imin oga burio ean ngaga

Kauwe iud ngaoen ero anen bwio
A eo dogin kauwei quan yemero
Bwon ngea boijara ome omaranet
Etang ino a ogiten meg ean
If anyone could provide a translation, please email me. Thanks in advance! -Mama Lisa
Notes
"This song is also called Kauwe Iud by Bessie Adu Nee Detudamo. Composed in Truk in 1943, remembering her home at Bwiden, Uaboe and the scent of Nauruan flowers in the evenings and the happy and carefree days singing songs in the moonlight. RIANG'N A- NAO-ERO"

Thanks and Acknowledgements
Thanks to Kate Barker for sharing the lyrics!

Image: Nauruan districts of Denigomodu and Nibok.
Tubwa kor!