This is the Patuá version of the Portuguese fado song, "Uma Casa Portuguesa". The English is a very loose translation. Please email me if you can help with the translation.

There are only 50 Patuá speakers in the world.

"The words basically say, in our Macanese home, everyone's happy. Then it describes different types of Macanese food." -Doundou Tchil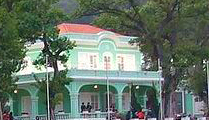 Unga Casa Macaísta
A Macanese Home
(Macanese Creole)
(English)
Unga casa macaísta vôs olá
Têm carinho na pobréza
Si têm gente batê pórta pôde entrá
Vêm comê cô nos na mêsa
Genti pobre, genti rico sâ gostá
Cativá tudo visita
Ma qui seza unga casita
Têm su chiste cô alegria
Tudo óra, tudo dia.

Mêsa cô toália bordado
Vaso di fûla na châm
Pisunto china bafado
Têm galinha, têm capám.
Porco balchám tamarinho
Vaca chaucháu maragoso:
Unga caneca cô vinho
Quanto bebinga sábrôso
Unga casa macaísta fazê vista
Sâ fazê vista unga casa macaísta.

Siara-siara sabe abrí su coraçám
Lôgo ri pa tudo genti
Na janela sã cherá mangericám
Fazê vôs ficá contente.
Tem biscoito cô ôbrêa na fontám
Camalénga feto dóci
Chá-co-sucri dóci-dóci
Tudo óra têm na mesa
Quim querê fazê fineza.

A Macanese home bids you hello
It has warmth in poverty,
When people knock at your door, they can enter,
Come eat with us at the table
Poor men, rich men alike.
It captivates all who visit
Even though it's a little house,
It has humor and joy
Every hour, every day.

The tablecloth with embroidery
The vase with flowers on the ground
Drink from china
They have chicken, they have capon.
Pig with Tamarind
Beef stew:
A mug with wine
A flavorful drink,
Do see a Macanese home
So do see a Macanese home.

It knows how to open its heart
Right away all men laugh.
In the window, the scent of basil
Makes you feel happy.
There are cookies in front,
Sweet young melon,
Tea with sugar, sweet-sweet,
They have it on the table all the time
In the end, all you want.