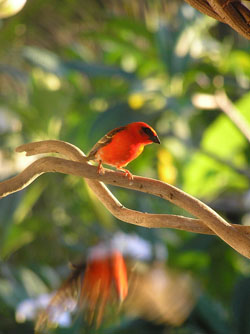 Iny hono izy ravorombazaha
Here's My Baby, Oh Beautiful Foreign Bird
Iny hono izy ravorombazaha
Ento misidina mankany antsaha
Ento misidina ambony
Rahefa mangina avereno,
O o o o o, ooooooo.
Here's my baby, oh beautiful foreign bird*,
Fly him up above the countryside,
Fly him high up in the sky,
When he's quiet, bring him back,
O o o o o, ooooooo.
Notes
*Regarding the word "ravorombazaha" - "ra" can stand for "Mr." or "Great" and "vorombazaha" can mean "foreigner" or "duck".


Sheet Music