Ja sam sirota
I'm an Orphan
Children's Song
Children's Song
Ja sam sirota nemam nikoga
Oca nemam, majke nemam, ja sam sirota.

Sirotice ti, nemoj plakati,
Jer ti ljubiš jednog momka, crna oka dva.

Ja sam sirota, al' sam bogata
Jer me ljubi jedno momče koga volim ja.
I'm an orphan, I have no one
I have no father, I have no mother, I'm an orphan.

Oh orphan, do not cry,
Because you love a guy, with two black eyes.

I'm an orphan, but I'm rich
Because a guy whom I love loves me.


The version of this song is alittle different below, but you can hear the tune.
Please
let us know
if you think this video has been taken down by YouTube.
Thanks!
Sheet Music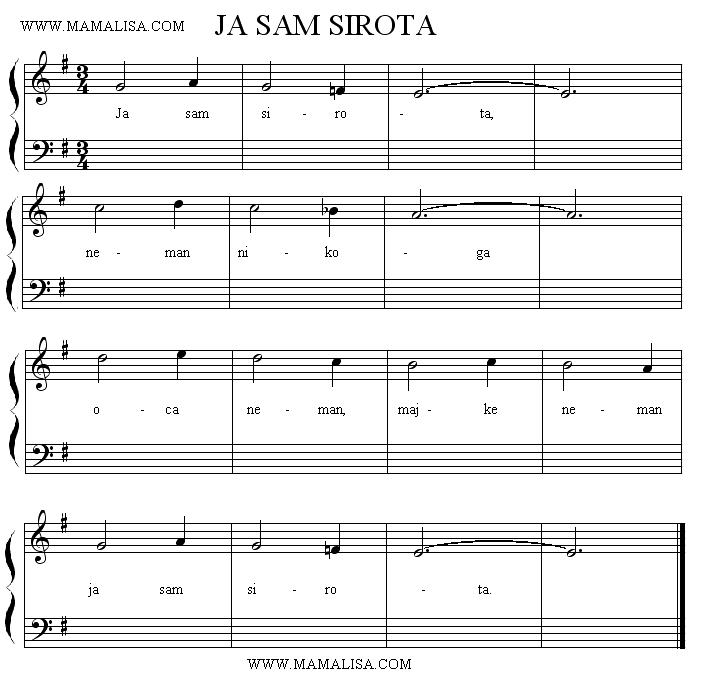 Thanks and Acknowledgements
Many thanks to Linda Gasparovic for contributing this song. Loosely translated by Mama Lisa. Many thanks also to Sanda Stančić for helping with the translation.
Puno hvala!