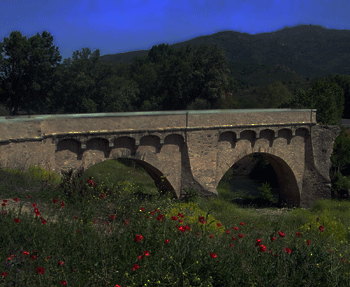 Sott'a lu ponte
Under The Bridge
Sott'a lu ponte
Ci luce la luna
In celu e stelle
Une manca manc'una
Dormi

In li castagni
Si lagna lu ventu
I nostru lume
Sarà prestu spentu
Dormi

So tanti mesi
Che no simu soli
A guerra impiglia
I babbi a i figlioli
Dormi

Mi frighje lu core
Un ne possu più
Lascia pienghje a me
Sta sera ma tù
Dormi.
Under the bridge
The moon shines.
No star in the sky
Is missing.
Sleep.

In the chestnut trees
The wind is moaning.
Our light
Will soon be out.
Sleep.

For many months
We've been alone.
War takes fathers
Away from their children.
Sleep.

My heart aches,
I can't take more.
Let me cry
Tonight, but you,
Sleep!


Sheet Music