Faith sent me this song and said it's... in the Kikuyu language of the Agikuyu people of Central Kenya. About the fear of a child towards a little frog. It is a tongue twister as well.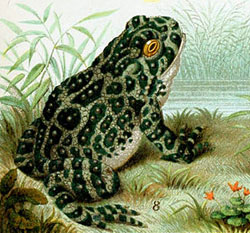 Kana ka Nicola
Nicole's Child
Children's Song
Children's Song
Kana ka Nicola,
kona kora kora,
Nako kora kona
kana ka nicola, kora.
Nicole's child,
Sees a frog and runs.
And when the frog sees
Nicole's child, it too runs.
Notes
Meanings of words in order as they appear:

Kana - child
ka - belonging to
Nicola - Nicole
kona - sees
kora - frog
kora - runs
Nako - and
Thanks and Acknowledgements
Many thanks to Faith for contributing this song.
Ni wega!