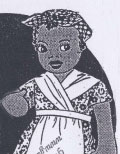 Counting-out Rhyme
Counting-out Rhyme
Pim, boneca!
Tap, tap, boneca!
Cara de boneca!
Pim!
Pim, doll!
Clap, clap, doll!
Doll face!
Pim!
Notes
"Tap" is an onomatopoeia.
Thanks and Acknowledgements
Many thanks to Hélène Rice for contributing this rhyme!
Obrigada!
Let us know what you think!
If you feel any comment below is inappropriate, please email us. Thanks!