Native American Audio Collections
September 23rd, 2016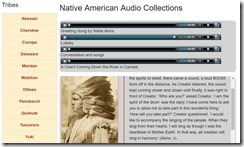 Check out the online Native American Audio Collections. It includes recordings of songs and conversations. Some of the songs are lullabies, dance songs and greeting songs.
The recordings come from the following tribes:
Abenaki
Cherokee
Cocopa
Delaware
Mandan
Mobilian
Ottawa
Penobscot
Quileute
Tuscarora
Yuki
Enjoy! Feel free to share other interesting Native American resources in the comments below.
Mama Lisa
Leave a Reply