Holiday Thumbprint Guys
December 17th, 2010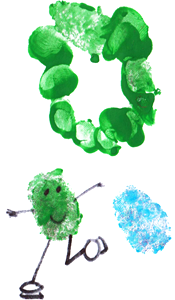 My daughter made these thumbprint guys in art class today. They're made with paint and Sharpie permanent markers.
All you do is dip your thumb in paint and make thumbprints in different places on thick paper.  Let the thumbprints dry.  Then add details with a black Sharpie marker. 
At top you can see a guy skating under a wreath.  The thumbprint guys at bottom are skating, skiing and sleighing.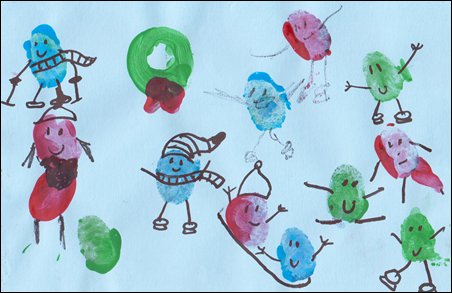 Using this simple method, you can make a cool homemade winter holiday card.
If you like this idea, there's a whole collection of thumbprint art books you can find on Amazon.  Many are by Ed Emberley.
Enjoy!
Mama Lisa
PS Here's a link to directions to make a thumbprint skeleton man for Halloween, The Day of the Dead or just for fun.
This article was posted on Friday, December 17th, 2010 at 8:33 pm and is filed under Arts and Crafts, Books & Stories, Christmas, Countries & Cultures, Crafts, Crafts, Halloween, Holiday Crafts, Holidays Around the World, Illustrations, Kids Drawings, New Years, Parenting, Seasonal, Teaching, The Day of the Dead, Thumbprint Drawings, USA, Winter, Winter Solstice. You can follow any responses to this entry through the RSS 2.0 feed. You can leave a response, or trackback from your own site.
Leave a Reply