In Turkmenistan, children go door-to-door for Ramadan singing and asking for a gift (like candy or coins). Here's a video of some kids in Turkmenistan going to a neighbor's house and singing a Turkmen Ramadan song to their neighbors….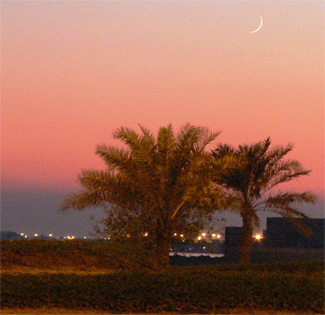 Ramadan Song
There's a Crescent in the Sky
Children's Song
Children's Song
If anyone can share the Turkmen lyrics to this song, please email us.

Si quelqu'un connaît les paroles turkmènes de cette chanson, merci de nous écrire !

Si alguien sabe la letra turcomana de esta canción, gracias por escribirnos.
There's a crescent in the sky.
There's a bow with a red pike.
There's a share for us
at the Prophet's dining place.
Let there always be celebrations in your home.
Let a girl be born to those who give less.
Let a boy be born to those who give more.
Oh herons, herons,
Oh herons that fly away.
Oh village women,
Let your sons who are
in the military return home safely.

Comments
The crescent moon has traditionally been used to determine the beginning of Ramadan.

Thanks and Acknowledgements
The English translation comes from the video.

Image: "Welcome Ramadhan" by Ahmed Rabea - Flickr. Licensed under CC BY-SA 2.0 via Wikimedia Commons.
Sag boluň!