This song is from the Bible: "All those who have received Him have the right to be called children of God." John 1:12.

We did our best to translate the song as literally as possible. You can compare our translation to the Biblical translation.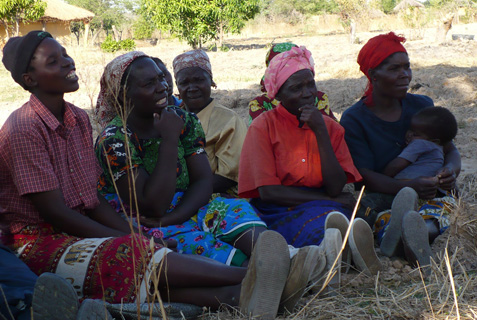 Bonse aba mu pokelela
Bali pele maka
Akuba bana (Repeat)
Kuba Bana (Repeat)
Kuba Bana
Bakwa Lesa.
All people who accept
His authority
Are his children
Are children
Are children
In the power of God.
Notes
Bemba Words

Bonse = all
Aba = people
Pokelela = accept
Bali (makes word affirmative)
Li = am
Maka = authority
Akuba = (emphatic) imperative of to be
Kuba = to be
Bana= children
Bakwa = leadership/power
Lesa = God

Thanks and Acknowledgements
Many thanks to Rebecca Grantland for contributing this song. Translated by Lisa Yannucci.

"ZambianWomen" by Florence Devoaurd - Florence Devouard, taken in Zambia. Licensed under GFDL via Wikimedia Commons.