Ana said, "We used to sing 'Joaninha voa voa' with a ladybird on our fingers, wishing it would fly away. The song 'Joaninha', as part of the oral tradition, is likely to have many different versions. Where I'm from, we sang it like this..."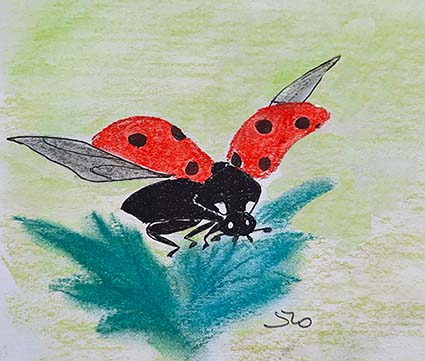 Joaninha voa voa
Fly, Ladybug, Fly
Nursery Rhyme
Nursery Rhyme
Joaninha avoa avoa
Que o teu pai foi a Lisboa
Foi buscar uma sardinha
Para dar à Joaninha.
Ladybird, fly away, fly away
'cause your father went to Lisbon,
He went to fetch a sardine
To give to Joaninha.
Notes
Ana wrote "...all around Lisbon, in those days, there were wheat fields and windmills on the hilltops. This is why children's songs often refer to this rural activity [windmills turning]. Near the house where I lived, there were two mills that are now in ruins.

'Joaninha' is both a ladybird and a pet name (diminutive) for Joana."
Comments
Another version:

Joaninha voa voa
Que o teu pai está em Lisboa
A tua mãe no moinho
A comer pão com toucinho

Joaninha voa voa
Que o teu pai está em Lisboa
Com um rabinho de sardinha
Para comer, que mais não tinha.

English Translation:

Fly, Ladybug, fly,
'cause your father is in Lisbon
And your mother at the mill
Eating a bacon sandwich.

Fly, Ladybird, fly
'cause your father is in Lisbon
He's eating a sardine's tail
Since nothing else was available.

Thanks to Ana Ruellon for chanting this rhyme for us!

Illustration by Monique Palomares.
Thanks and Acknowledgements
Many thanks to Ana Ruellon for the first version of this rhyme and for her interesting comments. Many thanks to João Carlos from Brazil for translating the second rhyme for us.
Obrigada!