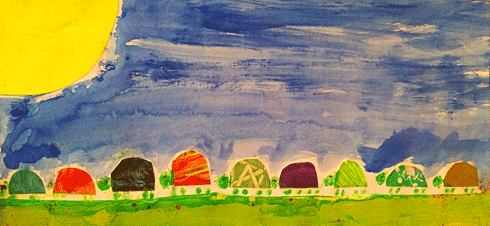 Manuelita la tortuga
Manuelita the Turtle
Canción infantil
Children's Song
Manuelita vivía en Pehuajó
pero un día se marchó.
Nadie supo bien por qué
a París ella se fue
un poquito caminando
y otro poquitito a pie.

Manuelita, Manuelita,
¿Manuelita dónde vas
con tu traje de malaquita
y tu paso tan audaz?

Manuelita una vez se enamoró
de un tortugo que pasó.
Dijo: ¿Qué podré yo hacer?
Vieja no me va a querer,
en Europa y con paciencia
me podrán embellecer.

En la tintorería de París
la pintaron con barniz.
La plancharon en francés
del derecho y del revés.
Le pusieron peluquita
y botines en los pies.

Tantos años tardó en cruzar el mar
que allí se volvió a arrugar
y por eso regresó
vieja como se marchó
a buscar a su tortugo
que la espera en Pehuajó.
Manuelita used to live in Pehuajó
But one day, she went away.
Nobody knew very well why
She went away to Paris
A little bit by walking
And another tiny bit on foot.

Manuelita, Manuelita,
Where are you going
With your malachite suit
And your bold step?

Manuelita once fell in love
With a he-turtle who passed by.
She said, "What can I do?
He won't love me being old.
In Europe, with some patience
They will make me beautiful."

At the cleaner's in Paris
They painted her with varnish.
They ironed her in French
Right side and wrong side.
They put a wig on her head
And ankle boots on her feet.

So many years she delayed crossing the sea
That, there again, she wrinkled
So she went back,
As old as she'd gone,
To meet her he-turtle
Who's waiting for her in Pehuajó.
Thanks and Acknowledgements
Many thanks to Fito Angueira for contributing this song and to Monique Palomares for translating it.

Thanks to Lila for the illustration!
¡Muchas gracias!