Sunday's Child Is Full of Grace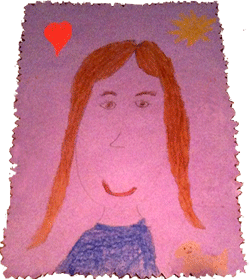 Sunday's child is full of grace,
Monday's child is full in the face,
Tuesday's child is solemn and sad,
Wednesday's child is merry and glad,
Thursday's child is inclined to thieving,
Friday's child is free in giving,
And Saturday's child works hard for a living.
Notes
See also Monday's Child is Fair of Face.
Thanks and Acknowledgements
Thanks to Lila for the wonderful drawing!