Sweet Basil's Flower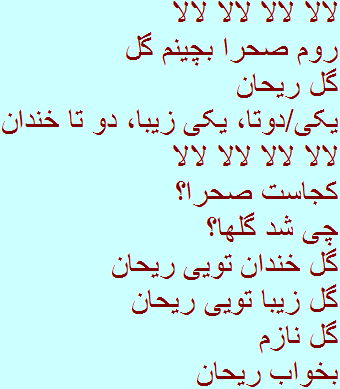 Sleep, sleep, sleep, sleep
I go to the field to pick flowers
The sweet basil's flower
One/two, one beautiful, two smiling
Sleep, sleep, sleep, sleep
Where is the field?
What about the flowers?
My smiley flower! You are the sweet basil's flower
My beautiful flower! You are the sweet basil's flower
My lovely flower!
Sleep! My sweet basil's flower!
Notes
Transliteration

Lala lala lala lala
Ravam sahra bechinam gol
Gole reyhan
Yeki/dota, yeki ziba, dota khandan
Lala lala lala lala
Kojast sahra?
Chi shod golha?
Gole khandan toye reyhan
Gole ziba toye reyhan
Gole nazam
Bekhab reyhan.

"kh" as Spanish "j" or German "ch" in Bach.

Farsi is the name in Persian for the modern Persian language.
Comments
Here's the computerized text: (we apologize if it doesn't display properly on your screen):


لالایی گل ریحان
لالا لالا لالا لالا
روم صحرا بچینم گل
گل ریحان
یکی/دوتا، یکی زیبا، دو تا خندان
لالا لالا لالا لالا
کجاست صحرا؟
چی شد گلها؟
گل خندان تویی ریحان
گل زیبا تویی ریحان
گل نازم
بخواب ریحان
Thanks and Acknowledgements
Many thanks to Fatimah Baji for contributing, transliterating and translating this song.
Khay'ly Mo'teh'shaker'am!



Let us know what you think!
If you feel any comment below is inappropriate, please email us. Thanks!