"This song is sung by children during the Gargee'an celebration on the 15th night of Ramadan. In some cities of Khouzestan province, where most Arabs of Iran live, people celebrate Gargee'an." -Fatima

Kids dress up in traditional attire and go door to door singing on Gargee'an. They receive sweets and nuts at each household. This tradition has existed in the Gulf for hundreds of years.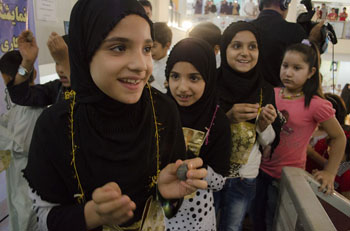 گرگیعان و گرکیعان
Gargee'an and Gargee'an
Children's Song
Children's Song
گرگیعان و گرکیعان
الله یعطیکم رضعان
الله یخلي راعي البیت
جینا ندق الحجر برجلینا برجلینا
واحد طبگ (طبق) لیلو (لؤلؤ) طبگ لیلو
واحد طبگ مرجان طبگ مرجان
یضوي علی السلطان علی السلطان
تعطونا لو نعطیکم؟
دیرة مکه نودیکم
هاي مکة المعمورة
مبنیه بجص و نوره
یا أهل السطوح تعطونا لو نروح؟

Gargee'an and Gargee'an
May God give you babies
May God bless the homeowners
We come, knocking the rock by our feet
A dish of pearls, dish of pearls
A dish of coral, dish of coral
Transfigures the king's face
You give to us or we give to you?
We take you to Mecca
This Mecca the universe
Built from plaster and light
Hey those who are on the roof
Give us (sweets) or should we leave?

Notes
Transliteration

Gargee'an wa Gargee'an
Allah ya'atikom redh'an
Allah yekhali ra'ee al-bait
Jina nedogh al-hajar be-rejlina be-rejlina
Wahed tabag lilou tabag lilou
Wahed tabag marjan tabag marjan
Yedhwi ala al-soltan alaal-soltan
Ta'atoona lou na'tikom
Dirat Maka newadikom
Hay Maka al-ma'moorah
Mabniyah bejass o noorah
Ya ahl al-ostooh ta'toona lou enrooh?

Thanks and Acknowledgements
This song was compiled by Siham Sajirati who collected folkloric children songs of Arabs of Iran and published them in a book in 1999 called "Sajirati, Siham" (Helle Ya Rommane. Ahwaz: Khaledin publication house).

Many thanks to Fatima Baji for contributing, transliterating and translating this song.

Image: Wikimedia Commons


Let us know what you think!
If you feel any comment below is inappropriate, please email us. Thanks!