This is a Fakanau, a traditional Tuvaluan male dance. It's sung in a voice between speech and song.

It's an old song for the Kuku fishermen of long ago. Some of the words are from an older form of the Tuvaluan language. This version mixes the more modern and the older text.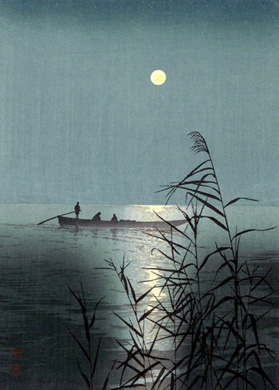 Le malama kato ia kato
It's the Full Moon
Traditional Song
Traditional Song
Le malama kato ia kato.
E ala ia musu e musu mai tokelau.
Sakalofia ia le ulu fakatafa ia ae
Kuku, e, ala tia vaka e vaka ia ae?
Kuku e, Kuku e, Kuku e!
Le malama kato ia kato.
Te ika koa lasi i te feitu ki tokelau.
Te fuavaka katoa ke olo ki tokelau.
E a e Kuku, ko ke tali tonu?
Kuku e, Kuku e, Kuku e!
It's the full moon.
If a sign is given, we must head west.
He signals with his head that the canoes
Must go side by side* right Kuku?
Kuku, Kuku, Kuku
It's the full moon.
A school of fish in the west.
All canoes must go west.
Kuku, is the direction correct?
Kuku, Kuku, Kuku!

There's a lot of repetition of lines in the rendition on the video.
Please
let us know
if you think this video has been taken down by YouTube.
Thanks!
Thanks and Acknowledgements
This song can be found in "Songs of Tuvalu" by Gerd Koch (2000). Translation adapted by Lisa.

Image: Moonlit Sea, Hasegawa Night, by Shoda Koho, woodblock print, ca. 1910-20 Japan.
Fakafetai!
Let us know what you think!
If you feel any comment below is inappropriate, please email us. Thanks!