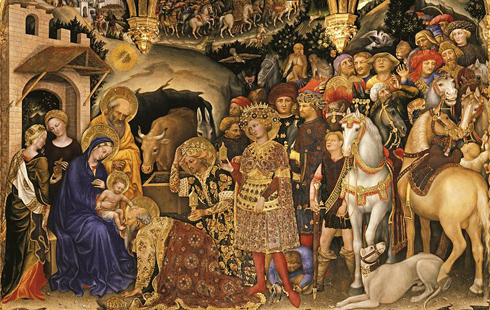 La jambe me fait mal
My Leg Hurts
Chanson de Noël
Christmas Carol
Beaucoup de gens vont en pèlerinage,
Beaucoup de gens s'en vont à Bethléem.
Je veux y aller, j'ai assez de courage,
Je veux y aller, si je peux bien marcher.

Refrain :
La jambe me fait mal,
Boute selle, boute selle,
La jambe me fait mal,
Boute selle à mon cheval.

Tous les bergers étant sur la montagne,
Tous les bergers ont vu un messager,
Qui leur a dit : "Mettez-vous en campagne"
Qui leur a dit : "Noël est arrivé !".

(Refrain)

J'ai un cheval qui vole sur la terre,
J'ai un cheval qui mange le chemin.
L'ai acheté d'un ancien de la guerre,
L'ai acheté, je peux me mettre en train.

(Refrain)
Many people go on a pilgrimage,
Many people go to Bethlehem.
I want to go, if I have the courage,
I want to go, if I can walk well.

(Chorus)
My leg hurts,
Saddle up, saddle up,
My leg hurts,
Saddle up my horse.

All the shepherds who were on the mountain,
All the shepherds saw a messenger
Who told them: "Get going to the countryside!"
Who told them: "Christmas is here!"

(Chorus)

I have a steed that flies on earth,
I have a steed that tears up the road!
I bought it from a veteran of the war,
I bought it, I can get going.

(Chorus)
Notes
There are some slightly different versions, some have more verses.

Sheet Music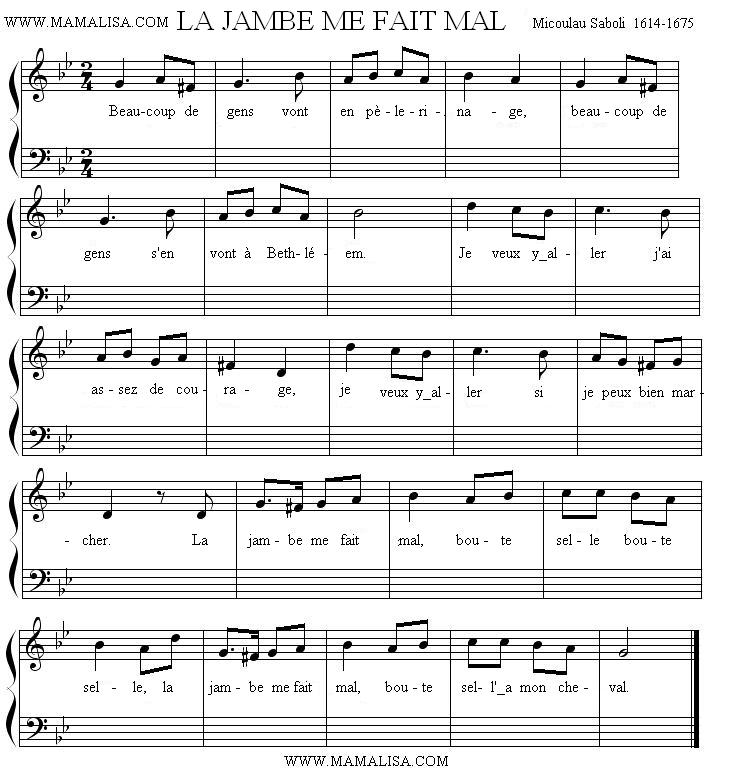 Thanks and Acknowledgements
Many thanks to Monique Palomares for contributing and translating this song, for the score and the midi. 2nd translator: Lisa Yannucci.

Image: The Adoration of the Magi (Detail), Gentile da Fabriano, Italy, 1423
Merci!
Let us know what you think!
If you feel any comment below is inappropriate, please email us. Thanks!