A Wedding and Celebration Song

This is called "Hevenu shalom aleichem". It's sung at weddings, Bar Mitzvahs and other celebrations.

The verse is repeated over and over again.
הבאנו שלום עליכם
We Brought You Peace
Wedding Song
Wedding Song
הבאנו שלום עליכם
הבאנו שלום עליכם
הבאנו שלום עליכם
הבאנו שלום שלום שלום עליכם
We brought you peace
We brought you peace
We brought you peace
We brought you peace peace peace.

Notes
Transliteration of the Hebrew:

Hevenu shalom alechem*
Hevenu shalom alechem
Hevenu shalom, shalom,
Shalom alechem.

*Re. The pronunciation of "alechem" - "ch" is like the Scottish "loch" or the German "Bach".

"Alechem" is sometimes spelled, "aleichem".

*****

Note on the meaning of "Hevenu shalom aleichem"…

Hevenu means "we brought".
Shalom means "peace". (FYI It's also used as a greeting like hi and bye).
Alechem means "to you".

According to Lynch at Unilang:

"Evenu shalom alechem = We bring peace upon you.
The meaning is more close to: We wish you have success and peace in your lives…

So this song… is quite optimistic. It wishes good life and peace upon everyone."



Sheet Music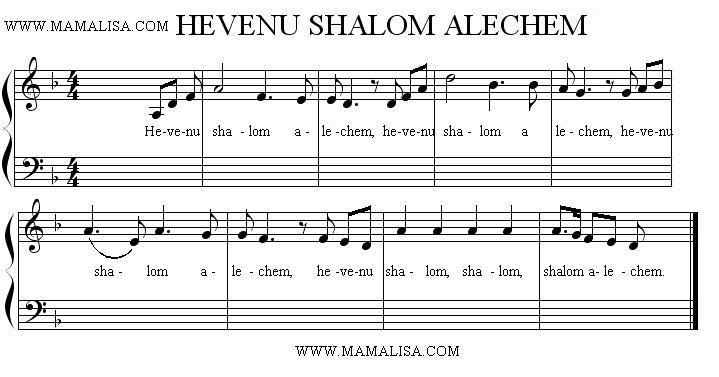 Let us know what you think!
If you feel any comment below is inappropriate, please email us. Thanks!