Oats, Peas, Beans and Barley Grow
(Chorus)
Oats, peas, beans, and barley grow,
Oats, peas, beans, and barley grow,
Can you or I or anyone know
How oats, peas, beans, and barley grow?

First the farmer sows his seed,
Stands erect and takes his ease,
He stamps his foot and claps his hands,
And turns around to view his lands.

(Chorus)

Next the farmer waters the seed,
Stands erect and takes his ease,
He stamps his foot and claps his hands,
And turns around to view his lands.

(Chorus)

Next the farmer hoes the weeds,
Stands erect and takes his ease,
He stamps his foot and claps his hands,
And turns around to view his lands.

(Chorus)

Last the farmer harvests his seed,
Stands erect and takes his ease,
He stamps his foot and claps his hands,
And turns around to view his lands.

(Chorus)
Notes
Here's another version:

(Chorus)
Oats, peas, beans and barley grow
Oats, peas, beans and barley grow
Can you or I or anyone know
How oats, peas, beans and barley grow.

First the farmer sows his seed,
Then he stands and takes his ease,
He stamps his foot and claps his hands
And turns around to view the land.

(Chorus)

Waiting for a partner,
Waiting for a partner,
Open the ring and take one in
While we all gladly* dance and sing.

(Chorus)

*or gaily
Game Instructions
The kids stand in a circle. The "Farmer" goes in the center of the circle. On the Chorus the players in the circle hold hands and go around in a circle while singing.

On the 1st verse after the chorus, the "Farmer" pretends to do the actions of the song. At the end of the verse points to another kid to be the new Farmer. Then on the Chorus the kids go around in a circle around the new Farmer. On the 2nd verse the new Farmer performs the actions and so on until all of the kids have had a chance to be the Farmer.


Sheet Music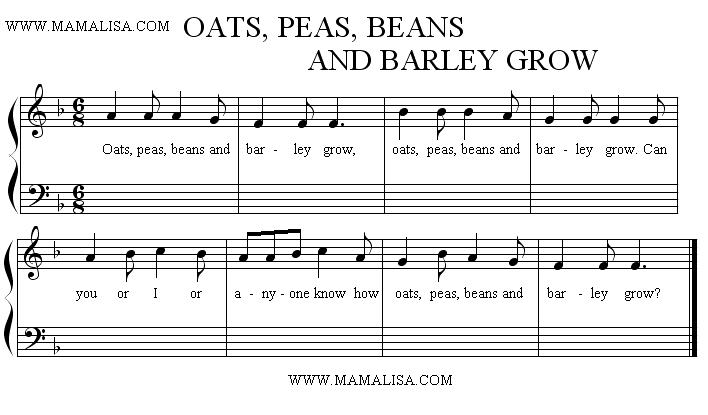 Let us know what you think!
If you feel any comment below is inappropriate, please email us. Thanks!